URR's post below (and the article it links to) are worthy of their own examination and discussion. By what caught my eye was the thought of company sized (150-200 man) elements deploying independently of the regular Battalion Landing Team that forms the heart of a Marine Expeditionary Unit (MEU).
The concept of the Company Landing Team (CLT) has been knocked around for a couple years, and that got me to thinking, what type of ship should such a Team be deployed upon? Currently,  MEUs typically deploy spread across three amphibious ships, each with very different missions and capabilities. The LHA is the largest of these, and serves as the primary home to the Air Combat Element of the MEU, as well as the bulk of the manpower of the MEU. The LSD carries the majority of the MEUs vehicles as well as cargo for follow on resupply. The LPD serves to carry most of the tracked amphibious assault vehicles (AAVs) as well as offering significant aviation capabilities, with a limited ability to conduct independent operations.
Of the three, the LPD would be best suited to fulfill the mission of carrying and deploying an independent CLT. The problem is, LPDs currently cost well over a billion dollars, and the Navy can't afford to buy enough to fill its current requirement to support MEUs, let alone enough for extra, independent company teams.
As for the suggestion that the LCS might serve as a future home, that's been an idea kicked around since supporters of the program had to start scrambling for ways to justify the flawed shipbuilding boondoggle.
You probably could fit a platoon sized element aboard, even if you had to use containerized berthing units. Maybe even a reinforced platoon. But fitting a reinforced rifle company onboard just won't happen. You'd need to field at least three LCS to lift a single CLT.
The aviation facilities can carry two H-60 class helos, so lift would be available, if a little light. But aside from small RHIB craft, no landing craft could be used to move the company. In sh0rt, the entire company cannot be moved from ship to shore in a single lift, which is generally considered a key element of success for a landing.  Basically, the LCS might prove useful for some very small special forces detachments, but it is a non-starter as an amphib.
There are some good precedents for landing craft sized to carry a company. The first to come to mind is the LCI, or Landing Craft, Infantry.
Sized to carry 200 troops in addition to its crew, it would beach itself, and discharge its passengers via ramps at the bow. But for our notional CLT, it has some pretty severe drawbacks. First, it was designed almost wholly with the idea of the cross Channel invasion of Normandy in mind. It was one thing to carry its load for 24-48 hours. That could be stretched to 72-96 hours in a pinch.  But it was completely incapable of supporting that passenger load much beyond that. Perhaps a more important disadvantage to the LCI is that it had no capacity to carry vehicles.
The other purpose build World War II era ship that immediately springs to mind is a far better fit- The Landing Ship, Tank, or LST.  At around 327' long, displacing about 3800 tons full load, the wartime LST had a crew of about 110, and normally had berthing for about 140 embarked troops. More importantly, it was purpose built to carry large numbers of tanks and other combat vehicles.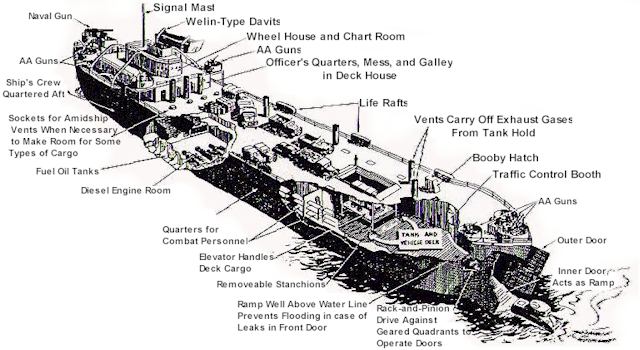 In practice, LSTs routinely carried a larger number of troops. As for vehicles, the design was capable of carrying 1500 tons on ocean crossings, but was only designed to beach with a maximum of 500 tons of cargo. Of course, the Army quickly figured out that most beaches would actually allow beaching with loads of 1000 tons, and routinely overloaded the LSTs allocated to them.
The wartime LST was also a surprisingly inexpensive ship. Not cheap, or crude, but not gold-plated, either. And stunning numbers of them were built, over 1100 in just a couple years.
In fact, the only real shortcoming of the World War II LST was its deplorably low speed, with a maximum of around 11 knots, and a convoy speed of 7-8 knots. The low power of the installed diesel engines were part of the reason speed was so slow, but the flat-bottom design and the bluff bow section were the real reason the LST was a Large SLOW Target. Later variants with much greater shaft horsepower were somewhat faster, but still nothing to write home about, especially given the expense and complexity of their steam plants.
The Navy eventually took upon a radically redesigned LST, the Newport class, the did away with the traditional bow doors, and instead used an enormous ramp over the stem of the ship.
This allowed a respectable speed of 20 knots, but the additional complexity and resultant cost, coupled with the ability of modern LCAC landing hovercraft to move vehicle cargo quickly meant the Navy eventually allowed the LST type to pass from service. The trend has been for decades, fewer, larger, more capable, more complex and more costly ships.
So let us design a hypothetical modern version of the WWII LST. Our requirement will be for a troop lift of 150-200 troops, and roughly 20 armored vehicles, generally of between Stryker sized and AAV-7 sized. We should plan on another ten to fifteen 5-ton FMTV type vehicles as well, to carry the support for the CLT. We should figure 7-14 days of offloadable consumables for the CLT once landed, including POL, ammo, rations and spares.  Only the most limited command and control facilities, and austere self defense suite are needed.
The guiding principle for the design of the ship is to cut construction costs. You'll hear various people tell you this feature or that will reduce lifetime operating costs. Maybe, but operating costs on a platform you didn't buy because it was too expensive is zero. Cutting up front costs (and keeping the ship extremely austere) is the way to reduce costs.
What other requirements must our notional ship have. Not, really would be nice, but must.
And let's take a look at the Company Landing Team itself.
I've found myself looking at a Stryker Infantry Company as the core in my mind (though I'm certainly open to suggestions to the contrary). Any independent CLT would almost have to be a mounted force simply because it would need organic transport to get off the beach. Organic helicopter support isn't an option, since that would vastly increase the complexity, manning and costs of any solution. Our notional CLT would also need the organic firepower a mounted force has lest it be defeated by even the most marginally equipped opposing force. Equipping with heavy mech infantry such as the Bradley would similarly increase the size and cost of the CLT, and would actually reduce the numbers of dismount infantry so valuable in so many low intensity conflict situations.
What supporting arms should our Company Team have? For organic fire support, is the 81mm mortar enough, or should we poach a battery of the Marines 120mm EFSS? Or simply used the Army 120mm mortar system? Would the Stryker Armored Gun System be sufficient direct fire? What about engineer support, logistical support, maintenance, air defense, intelligence, signals? How do we balance between having sufficient combat power, and keeping the size and cost of a force within a manageable scope?